The Falling Leaves of St. Pierre
The Falling Leaves of Saint Pierre (2003)



Alessandro Nivola: St. Pierre (a fashion designer that is slowly losing his mind)
Emily Mortimer: Anouk (the starved maid of St. Pierre that becomes addicted to eating condoms)
Martiniano Lopez Crozet: Areski (St. Pierre's sex toy and personal assistant)
Jenna Curtis: Gina Fontaine (a thirteen year old super model that is out of her mind)
Milena Muzquiz: Penny (the reliable seamstress and assistant to the house of St. Pierre)


Opening Scene:

St. Pierre is on the floor moaning sounds of pain. Areski is in one window of the gallery and Penny in the other.

Areski: We are here to clarify ourselves.

Penny: Oh God, can't you see that talking about myself hurts me.

Areski: Today is the first day of spring. Today is your birthday. Are you leaving right now in the middle of the season? It's not good timing.

Penny: I'm going to Berlin to piss on the wall and to join the comrades of the German peace demonstration. Are you going to be part of the youth?

Areski: I'm 50% conformity and 50 % suspended revolution. I'm 50 % myself and 50 % your comrade. Right now I have no opinions and I try hard to have them. Nothing. Just nothing. I'm staying here.

Penny: You're lucky Areski. Always settling everything by escaping with your infantile aggression. Always looking to satisfy. You clean your hands with disillusion and because of this you find yourself always standing in the same place. I must walk.

Areski: I am a falling leaf, a creaking door, a gentle grunt. Tralalalala.

St. Pierre walks in with rolls of fabric.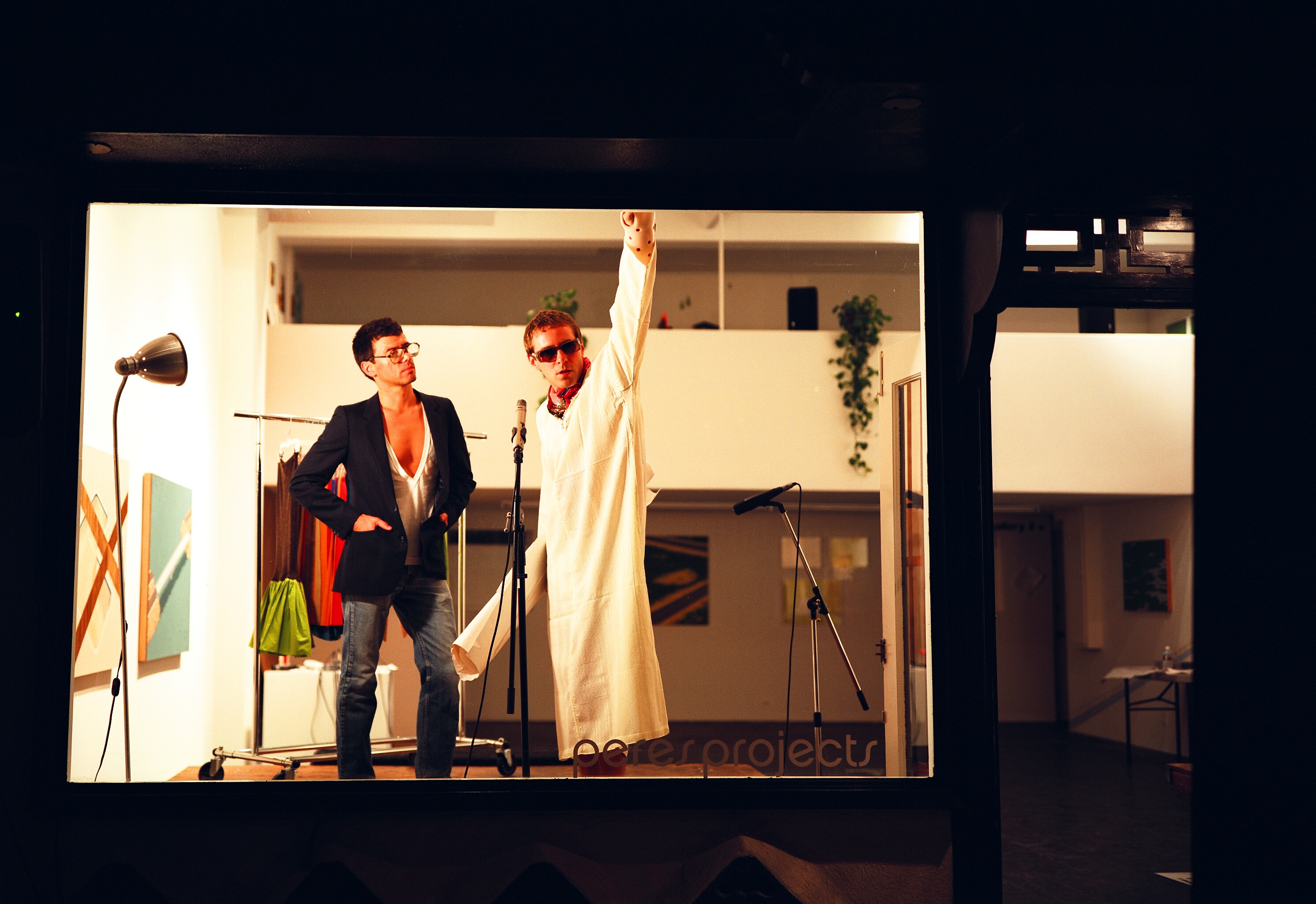 St. Pierre: Areski! The house of St. Pierre is on the cover of every magazine. With your help and the help of Penny the translation of my ideas has become universal, international. The architecture of every new woman is under construction. I must thank you also for the ultimate orgasms you have given me in every room of this couture house.

Areski: You are a filthy pig! Even though I enjoy every minute of your penetration I have to say you disgust me. Why don't you pick up the used condoms after you cum?

St. Pierre: Because I do not have to. That's why I hired Anouk. She's paid a salary of 20 francs an hour to make sure the House of St. Pierre is not a piss hole.

Areski: You have given me every venereal disease there is and stretched every hole in my body but you know what, I am pure and still thankful for every step you walk in my direction.

Areski sings song #1.

Lights out.

Lights on.

Anouk is picking up condoms from the floor and eating them. She sits on a desk and starts writing.

Anouk: "Dear diary, it's autumn and it is brown outside. The house of St. Pierre fills me with hope. I have been eating his condoms for three months now. He seems to notice me more lately. I practice and practice at night. I must be discovered. I have to be the new face of the House of St. Pierre. I don't care about my validation or even recognition. I must make money, a lot of money, tons of money. That is the only way I can get St. Pierre's respect again. Why do I need to prove myself to him again? Why now? Can't I enjoy the small things in life? I don't need to be the new face or shop at Printemps or have myself an original St. Pierre. No, no, no. But then…What if I don't have all this? Then what? I must keep writing. This is the only thing that keeps me from going mad. I feel like a falling leaf, a creaking door, a gentle grunt. Tralalalala.


Lights out.

Lights on.

Penny and Gina Fontaine work in the fitting room for St. Pierre's next collection.

Penny: Gina, how was the Milano fashion week?

Gina: Oh, forget that! I wanted to go to piss on the Berlin wall with everyone else but I was doing the runway walk thing. So instead as I walked towards Gianni I pissed all over the catwalk.

Penny: I guess our privilege is to piss on every occasion. This is one of the things I learned in the Berlin march. Gina Fontaine, I want to know you completely. You are a rock in mud, a rolling tweed, Prince of Wales in an empty island. I want to know who you are.

Gina: If you saw me for one instant as I am, terrified, you would call a doctor, an ambulance. Hurray!



Penny sings song #2

St. Pierre and Areski walk into the room.

St. Pierre: Time for a meeting everybody! We have two days before the show. Areski and Penny have been working hard but I'm forced to ask you to work harder. Our lives are at risk! These are my final ideas and you must interpret them into the walls and facades of this collection…

St. Pierre: Chardonnay!

Gina: Golden showers!

Penny: Chinese satin!

Areski: Afternoon maxi dress dipped in lemon juice colors. A scarf!

Penny: A slip on. A broken wrist. A cast.

St. Pierre: Clarify! Overcast. Tralalalala…(laughs) Bravo! Bravo! (Applauses)

St. Pierre: Everybody on the floor! Be silent and don't move. You are in a coma. Penny! You haven't moved since August. You are hungry and always thinking about someone to love. Franticly. Desperately.

Penny: Stillness. Stiff fabrics. Excrements on the sheets. A-line brown stained mini!

Areski: And so on and so forth and so on. I've had it! We are done! Tralalalala.

Gina: Talalalala, tralalalala.

St Pierre sings song #3

Lights out.

Lights on.

Anouk is in the other room pregnant. This is a solo part where she is wondering who the father of her child is. Since she has been eating the condoms it could be St. Pierre or Areski. Finally realizing she doesn't care either way she calls Gina to her room to confess her actions and pregnancy. She explains to Gina that St. Pierre has only been giving her his left overs to eat. That he measures her food and she becomes desperate and hungry eating whatever she finds around the house. That then she started eating the condoms for protein and became addicted to them. Now her pregnancy has caused an incredible amount of hunger.

Gina starts crying and yelling.

Anouk: Gina, what I'm going to say might shock you so please sit down. As you know, three months ago, I started working for the House of St. Pierre and it has been a glorious time except for one detail. I have not been fed properly. St. Pierre tells me that it is not necessary to eat. Occasionally I lick some left over sauce from his plates before I wash them. One day as I was cleaning St. Pierre's bedroom I felt a horrible rumble come from my stomach. It was so painful. At that same moment I picked up a used condom from the floor and desperately shoved it into my mouth. This has been the only way I have been able to survive my time here and I refuse to work elsewhere. The only real problem is that, as you can see, I have become pregnant and I am not sure if the father is Areski or St. Pierre. And worse than that with the pregnancy my hunger is insatiable and St. Pierre's condoms are not enough to survive my unborn child and me. Gina could you please bring me a dinner roll or anything you can find in the studio. I beg you Gina!

Gina: This is the worst! I can't believe it. St. Pierre is mine. You must not have him! This house would not function if it weren't for me! (Gina is going nuts, yelling) He is mine! St. Pierre! St. Pierre!

Gina sings song #4

St. Pierre walks in and screeches.

St. Pierre: I am not St. Pierre. I am a monster. I am a monster!" (He falls to the floor yelling like in the beginning of the play).

Penny and Areski dial 911.

Areski: Hello? We are calling to report a monster…yes, he's in the couture house of St. Pierre.

Sounds of an ambulance as lights dim.

Penny: How long has he been like this?

Areski: More or less four minutes. I love St. Pierre. He is the most loving man.

Penny: He is a monster. He hated everybody he worked with. He didn't even love his own mother.

Areski: He adored his mother. He took her to the cinema every weekend.

Penny: He has only seen one movie in his whole life. It was "La Traviatta" by Bocinelli. What I liked about him is that he would stick to his words.

Areski: He was very indecisive. He could never make up his mind about the fabrics and designs. That is why he hired us. He was very smart though. He believed in the paradoxes of life.

Penny: Tomorrow there's a protest against the Supreme Justice of Amsterdam. Are you coming?

Areski: Freedom to the people of Amsterdam!

Penny: Freedom!

Areski: No more injustice! Tralalalala.

Penny: No more! Tralalalala.


Everyone grabs a sign and walks towards the audience. Once near the window they look over and see a person standing and they all start yelling: "That's him! There he is! Let's get him! Kill him! Free the people!" They run to the person and beat him up with the signs.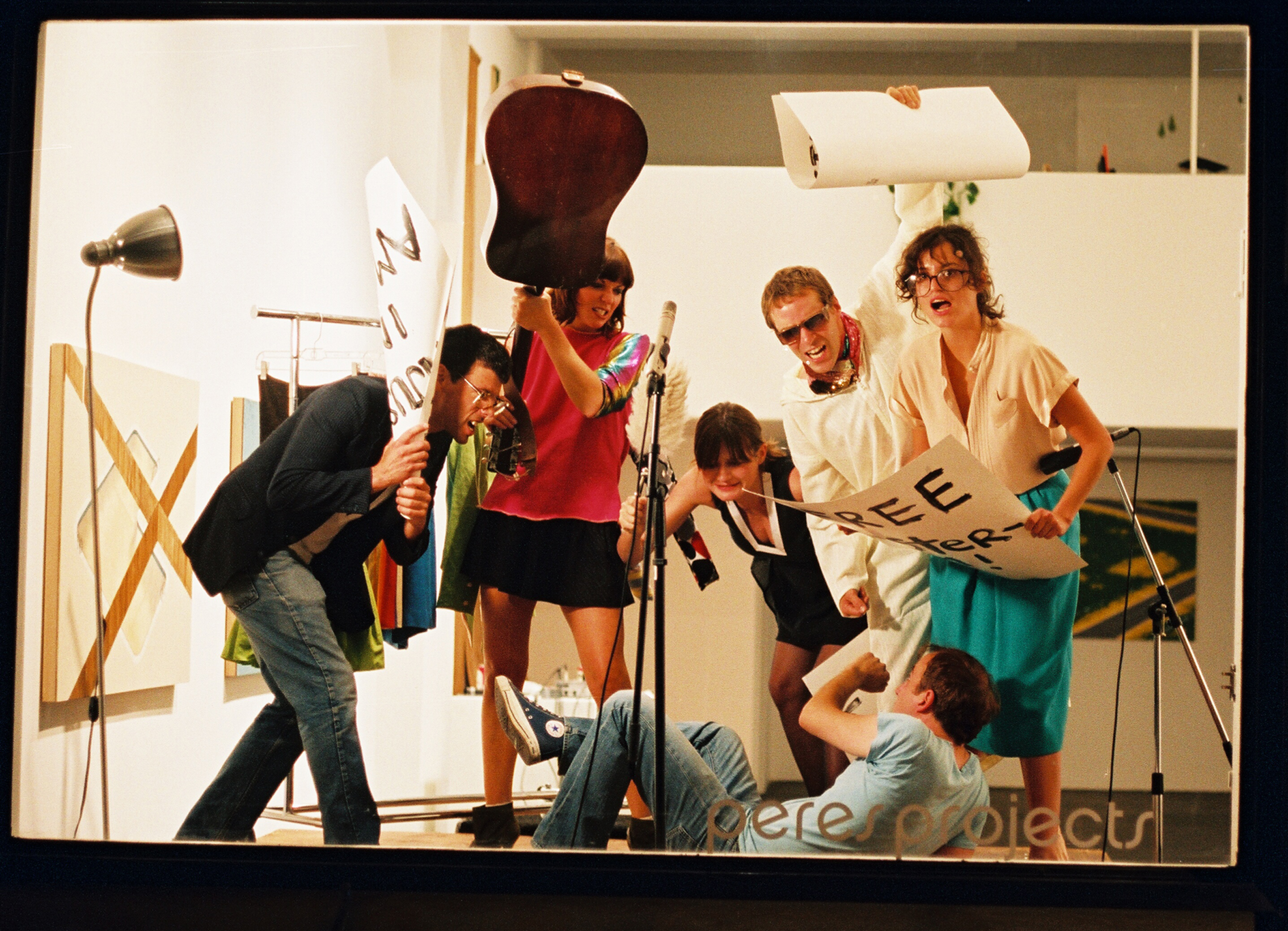 Lights dim. The play is over.