PROJECTS


FLIPI-FLOPI



Saem a palco prinicipal um sicologo e interpretam a obra:



Sicologo: Olá eu sou o sicologo de Ivo e Giselle ainda que eles nunca se inteiraram disto. Eu não podia lhes dizer porque implicaria com grave conflito de interesses. Vamos começar com Ivo. O nacio numa família grande com três irmãs e dois irmãos. Seus pais sempre foram exitosos em suas carreiras. Os dois irmãos eram atletas. O irmão menor tendo chegado às olimpiadas de Grécia consigo ganhar a medalha de bronze em lazamiento de jabalinas e o outro irmão foi campeon nacional de taekwondo em Brasil. As irmãs vivem Shanghai e estudam medicina antiga chinesa e foram nominadas para o prêmio nobel do 2009. Ivo sempre foi muito inseguro e teve problemas de aprendizagem. Não se sábia se era dislexia ou uma deficiência de atencion provocada por uma hiperactividad innata mas ao mesmo tempo em sua vida consigo fazer bastante dadas as circunstâncias tão dificiles em sua infância. Se analisamos seu ultimo projecto dantes de morrer podriamos chegar à conclusion de que este vacio que o sempre habia estado procurado era uma metafora do desejo profundo de deixar de competir com suas irmãs, seus irmãos seus pais seus companeros e em general consigo mesmo.



Giselle crecio numa pobreza extrema. Seus pais de ascendência Russa não falavam portugues. Desde os cinco ânus trabalhava vendendo papas no mercado numa pequena aldeia no médio da selva no Amazonas. Ela sempre tive demasiadas responsabilidades: trabalhar para manter à família, Traduzir do Russo ao Portugues constantemente a cada vez que seus pais o precisavam. Como no mercado do Amazonas os clientes do puestito eram indigenas de diferentes tribos ela teve que aprender 7 idiomas indigenas. Devido a esta habilidade com os idiomas ela foi forçada a ser agente encoberto para o governo federal. A escravatura dos indigenas naquela eopca foi a maneira em que o governo pôde solventar a construccion da capital de Brasil Brasília. Giselle nunca pudo superar esta culpa y fue en ese dia tan importante para Giselle que su vecino Mario Testino la capto en una de sus primeras fotos experimentales. Mario vivia en la orilla oeste del rio, en Peru y Giselle en la orilla opuesta en Brasil. Sempre tomavam a mesma canoa para se dirigir ao mercado. O destino destas duas pessoas já o sabemos todos. O que nunca conseguiremos saber é se ela alguma vez pôde negociar com exito a culpa tão enterrada em sua ninez com a fama da qual todos fomos testemunhas.

Ivo está sentando-se em uma tabela no restaurante que olha as fotos da arte que penduram do teto e que falam em seu cel-telefone. Sua tabela é cercada por outras tabelas com os povos que têm o jantar.

IVO: Sim Katerina, sim. Eu estou esperando-a. Está atrasada como usual… em sua maneira do aeroporto. Eu tenho a mais melhor idéia para o Sao 2010 Paulo Bienial: Todos os trabalhos pendurarão do teto em uma altura uncomfortble… que o visor terá que esticar a garganta…

Um empregado de mesa serve a mais vinho.

O Gisele entra carregar com ela um caso de terno e lotes de sacolas. Usa um chapéu enorme e óculos de sol.

Giselle: Ivo! Que viagem! Acabo de chegar de uma sesion com Mario "Fotos no ar!" Jumbo 747 Primeira classe e os asafatos em sungas servindo champagne! Imaginate: De Londres a Sao Paulo tomado champagne e comendo sanguchitos. Chego um momento em que não pude mas e vomite TUDO. Mario empezo a sacar fotos sem parar e lhe ancanto o momento. Acho que vai ser A TAMPA!

Ivo: NAUSEA ar e movimento. O titulo para a bienal do 2010...

Ivo diz-lhe a Giselle: Oliha Giselle, a bienal já consigio todos vos objectivos aos quais se propôs em 1951: "colocar a arte moderna do Brasil, não em simples confronto, mas em vivo contacto com a arte do mundo, ao mesmo tempo que, para São Paulo se buscaria conquistar a posição de centro artístico mundial" agora tenho uma ideia muito mas genial e ambiciosa que a original: voce e eu vamos facer uma obra Havaianissima!

Giselle: Eu moro na uma aldeia global viajando de aqui para alla, de alla para aqui, tantas fotos, tantas revistas....já nem me lembro Porque? Para que? Quando? Como? A mim me parece que seria mais interessante ter uma perspectiva regional. Outro vinho?

Ivo: SE. Outra copita Giselle, ou brigado. Nunca passará nada se seguimos charlando enquanto tomamos copas. O que há que tomar é uma posição! Conto-te minha ideia?

Giselle: Sento-me embotada, estou a começar a ver as coisas mas claras ainda que...Não estamos a olhar Ivo... Isso é! Todo culpa do conceptualismo.. Estamos a perder o sentido da mirada!

Ivo: É que te esqueceste os anteojos no táxi Giselle! Mesero! Os anteojos da senorita faz favor! Há Giselle!... é que voce é uma obra de arte: Devo confessar-te que este ânus deixe o pabellon vacio porque quero te exibir a vos: sozinha, e tens posto só um par de havaianas, com milhares de fotografos apertando o gatillo desde as grandes janelas. Acho que isso cumpliria um dos objectivos da bienal deste ânus: o de marketing.

Giselle: A crítica institucional é meu tema favorito da arte contemporânea mas eu não vou ser parte deste performance ridiculo. Já me conto Waleria que Havaianas lhe vai pagar os bilhetes aos artistas e que quer que me ponha as Havaianas a mudança mas não! Aparte esta foi a bienal mas barata e eu sou a modelo mas cara do mundo! Basta! Mesero! dele a conta a Ivo faz favor. A onde vamos agora Ivo?

Ivo: ¿aonde vamos? Essa ideia foi uma de minhas preocupações dos últimos anos! Vamonos a "A Louca" preciso um travesti. Que faço Gisi? As publicações vão sair tarde, esta crise é total! não lhe pagámos aos da limpeza todavia e estan amenzando com um desemprego....Temo-me que a cuidai de Sao Paulo vai queimar o edifício se não fazemos algo bom este ânus...À gente dá-lhe medo o vacio porque teme-lhe ao vacio que estava ahi em primeiro lugar. Tenho uma profunda necessidade de auto-refleccionar...de revisar, de actualizar. Devo colocar-me. Não! Re-colocar-me....

Giselle: Não! Vos achas que o vacio do edifício é um gesto politico ou historico, e o é.... mas é muito mas revolucionário esvaziar directamente nossos cérebros! Me entedes?Pensar é gerar lixo!! Não te dás conta? De qualquer maneira a minha não me vais ter nua caminhando num lixeiro! Isso mas que um gesto politico é um bochorno!!

Ivo: Sos uma genia! Desde que empeze a meditar no de Tunga empeze a mudar minhas ideias. O objectivo é claro: Basta de ideias! Basta de lixo! Façamos oficinas para que os artistas artistas brasileros voltem a conquistar a posicion central no mundo artistico.

Giselle: (Contesta o mobil) Olá? Luli! Se. Se...Se...Estou com Ivo...Não.....não.......não........A Louca......se........se........se. Não!

Ivo: Lula?

Giselle: Não. Luli... que me pôs na lista de convidados para o desfile de modas "Rave Wrold III" às 830. Queres vir? Nos haria falta um novo look........

Ivo: Onde vamos sacar um novo look?

Giselle: Tenho ultima-a coleccion Wambuto Watusi em meu valija...Vamos provar-nos...



Gis E ivo está a posar ali enquanto uma voz com reverb é ouvido sobre silêncio:

Voice: Giselle, você é a famosa modelo ....?

Giselle: Se sou eu..Quem fala?

Voice: Ivo! Não trabalhavas na galeria de Luisa Strina?

Ivo: Não! Jamais. Quem fala?

Voice: Eu estou morrido e quiciera lhes avisar que não existe o outro mundo...

Giselle: Mas se estas morrido e não existe o outro mundo de onde nos estas falando?

Voice: O que passa é que quando um se morre o unico que passa é que a pessoa se faz invisível mas segue vivendo. Dois porciento dos mortos podem falar e o resto ficam mudos mas podem escutar

Ivo: Mas os mortos podem-nos ajudar....Eu me quero morrer. Todo o que faço é um desastre e sento que não sou nada nem ninguém e estou de acordo com Giselle quando me diz que sou um incapaz.

Giselle: Não. Eu sempre te digo isso mas a realidade é que projecto meu ódio a minha mesma para ti. Sempre, sempre igual...Odeio-me

Voice: É que a verdade eu que vocês me morro porque uma vez que um se faz invisível já para começar se te levantas cansado já não te vais ver cansado, a gente não te vê as ojeras, tua não vês tua reflito, em definitiva eu lhes recomendaria que se se morram o dantes possível. Eu lhes ajudo: querem que os mate?
Marti and Milena get up from the floor and walk on to a craine that lifts them 20 feet above the stage they sing
"Quiero ser Santa"
They lower the craine and pick up an umbrella each and sing a melodic 50's song titled
'I was to young to know that I was so in Love"
Read more...
Claire have you seen Sebastian? Sebastian do you see Claire?
A musical performance for the Vamos festival at the Baltic Museum in Newcastle, UK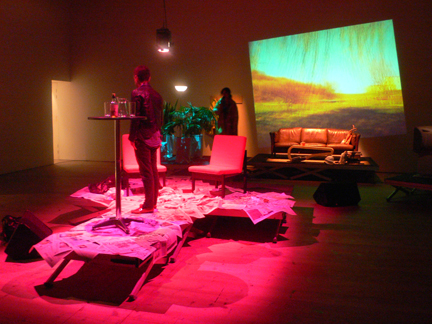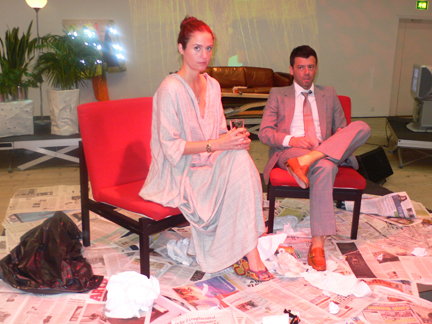 "The Technical Vocabulary of an Interior Decorator"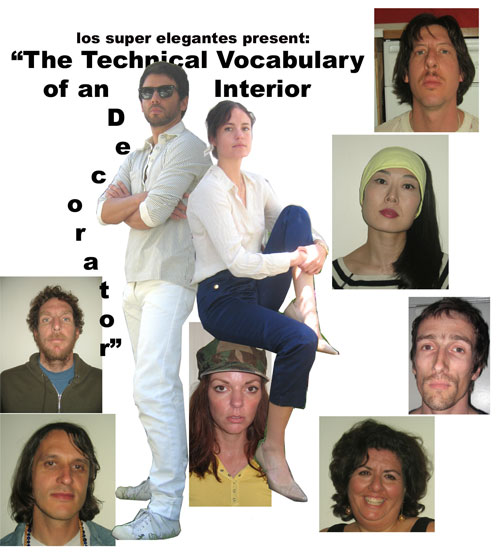 "The Technical Vocabulary of an Interior Decorator" is the fifth musical that Los Super Elegantes did. The main characters are Mimi Patino played by Milena and Ferrucio Wolf played by Martiniano. Mimi is an interior decorator that uses new ideas and progressive techniques for her practice. She has various methods the most popular being : pick a paisley, decorating with dogs, tropic is the topic and doggy bag disco.
Mimi Patino and her assistant Paul Gelman sing
Ferrucio Wolf is a man in crisis that can not stand the objects he is surrounded by. He is the owner of a travel magazine and abruptly decides to change career and start a pasta company along with this change he has decided to hire Mimi Patino to transform his home.
Ferrucio sings
sketches for TTVOID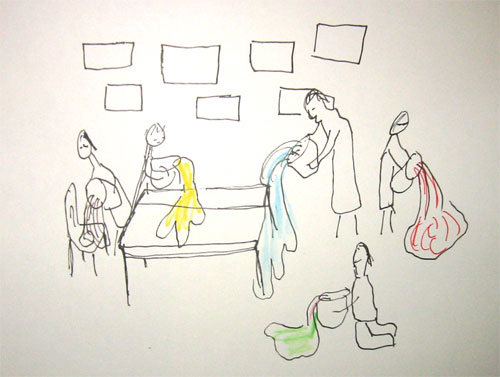 Building the set in Los Angeles in 2005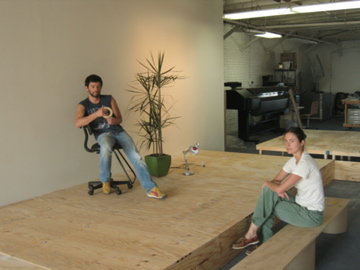 ceramic piece for Mimi Patino's office
Image of the installation at Dan Hug gallery in Los Angeles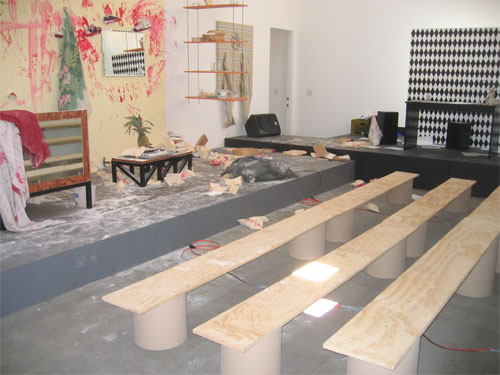 The redecoration of Ferrucio's Home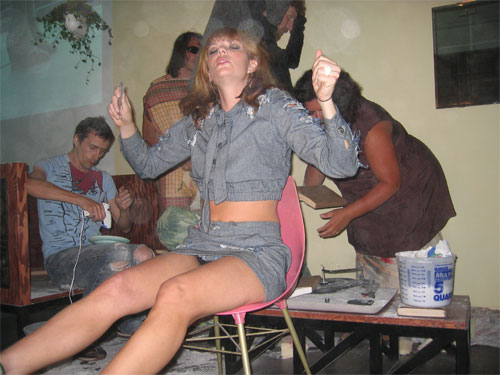 "THE TECHNICAL VOCABULARY OF THE INTERIOR DECORATOR"
Los Super Elegantes 2005


The volume of the music is rising simultaneously with the lights in the whole set. Each character walks on to the stage separately and does a dance step along with the music, each person has a small action (talking on the cell phone, slipping, meeting up with a friend opening of an umbrella, asking for directions, all of this is accompanied by a sound effect in the song) one by one they arrive to a large whole in the wall with a neon sign on it that says "The Library". Some people form a line while others just enter and dance in the club, the music is loud and you can hear people yelling over the music. Once everyone is inside the lights turn off and there is a video projection with the people entering the club (this is filmed in another space) and getting cocktails, each character either dancing, jumping, laughing, drinking slowly it becomes more and more chaotic, someone throws a beer on someone else's head , another person starts crawling around etc…

Ferrucio: Who got us on the guest list?
Shirley: Oh. Mimi Patino. She designed this club in 98'. I'm having her redo my kitchen right now.
Marti yells: what's her name again?
Shirley: Mimi Patino, its Mimi Patino!


Ferrucio walks out of the library towards his house with Claire. They are arm in arm and enter Ferruccio's house talking.


Claire : I was looking over the last issue of the magazine. The piece on the new resorts of New Guinea was really strong, but I feel like the format has to change , it seems a little generic, you know, like an airplane magazine

Ferrucio: That's why I choose you to be the editor, you do your job like no one else. Well it's about time I break the news, things wont change a thing for you but I just had a meeting with Micheal Berlin and it's a done deal. I sold Bon Voyage magazine.

Claire: Look. I've known you for fifteen years. Do you think this is a surprise? I'm not even flinching. Anyway, people already started talking about it at the office. Oh well lets toast for new beginnings.

Ferrucio: Look. The idea of the magazine was to give people an escape from their ordinary lives. The illusion that they can get away from it all and that idea is fine but now I realize that I am the one who needs an escape. The magazine has trapped me in this city and I need to get away from it all. (the cell phone rings)

Kashandra is walking out of the club with her cell phone.

Kashandra: So, anything going on tonight?

Ferrucio: No. We are just hanging out at my place. Come by. It's to the left of the club , the red door.

Kashandra: (walks in): News is news, I had Michael over for dinner last night and he told me all about the magazine. So what is next?

Ferrucio : You know what it is going to be? I'm interested in starting a fresh pasta company. Where can you get pasta that's made the same day you eat it?

Claire and Kashandra look at each other with expressions of disbelief.

Ferrucio: This is the beginning of a new era!

Kash: If you are really serious about this you better start thinking "Mimi Patino"
A new enterprise means a new house…

Ferruccio's song starts.

Ferruccio: It's as if the floor of my apartment were still sand and gravel or stone slabs over which I walk again today. Through the corridors and rooms I realize this place is a mournful remnant from another age. This big living-room has no end and it's silent through thick carpets, deserted, encrusted with cold and heavy ornamentation, stucco, moldings, marble, black mirrors, shadowy paintings. It's as if I lived very far away from this numb and barren, décor but I still find myself here…


Song ends and lights go on at Mimi Patino's office

Mimi is in her office sitting at her desk throwing papers on the floor

Mimi:"Yep,Yep,Yep"

Paul her assistant walks into the office inside of a soft sculpture

Paul: Mimi you soft sculpture just arrived from Lichtenstein.

Mimi: Can you please put it on the wall, so what is left for you to do?

Paul: the research material for the catalogue hasn't been finished yet, the proofs have to be at the printers next Tuesday, there are still major problems with the color reproductions, the living room hasn't even been started because of a hold up with the Newton model and of course we have to pay the electricians to stand by or else we will loose them.

Paul has gashed a hole into the rice bag and is letting it fall all over the floor.

Mimi: I don't care about all those things. Let's see here, it seems like we are almost done with the Wilberson's installation. We just have to order seven sacks of growing rocks for the bottom of the pool.

Paul: Wisconsin & co.?

Mimi: Yes. It will be a mountain in two years

Paul: The living end

Paul walk's in with an egg carton filled with cut veggies and dip he puts it on Mimi's desk and she shoves it away.

Mimi: Did you get a chance to stop by "The Library" last night

Paul: For a second, it is going great, all 60's retro-grade you know girls with short hair boys with long hair, a real sham a lam. Unfortunately it is getting away from your signature style, which is the impermanent those kids are in there 72 hours a stretch, rooted to the floor, they are like stilagtytes. drip drip drip

Mimi: Yes I know this already, it really upsets me, isn't the rainbow momentary, "The Library" should be empty that was my original idea. I have to do something about this.

Paul: Yeah shake it up baby, twist and shout. Disco a la' carte

Mimi: No, No I have a better idea Doggie Bag disco, Bring the disco home.

Paul : WORK!!!!

KNOCK KNOCK

Jenna is at the door

Paul : Hi Doll

Jenna: Hi I just stopped by for 5 min. but I wanted to see you

Mimi: yes
Jenna: so what are we going to do?
Mimi: lets have lunch at la pleuche at around 2 pm. Frankie's working as a hostess there tomorrow ,
Jenna: Frankie Sterling, she is starting to look really bad, I had no idea she was hostessing.
Mimi:Yes it's unbelievable, she's all washed up, we should have lunch there to support her.
Jenna: If there is a role available for a hysterical depressed woman Frankie would be perfect for the part.
Mimi: now, lets start working on the installation for your bathroom here are some papers you just have to look at them and re-act , what comes to mind when I show you this?(Mimi hands Jenna a blank piece of paper)
Jenna: an oak tree
Mimi: Good, very good, now this what do you think when you look at this?
Jenna: I think of a rocking chair.
Mimi: alright and this
Jenna: Nothing at all.
Mimi:Ok, what about this?
Jenna: Nothing comes to mind.
Mimi: Ok, and how about this one
Jenna: Nothing again
Mimi: perfect I'll see you tomorrow at La Pleuche.



Paul walks into the office

Paul: Mimi I'm sorry for the interruption but you have a meeting with Ferrucio Wolf at 1:15.

Mimi speaks to Jenna: I'm sorry you will have to excuse me.

Paul: Mr. Ferrucio Wolf, Mimi is ready to see you.

Mimi: Hello Mr. Wolf, what brings you to Mimi

Ferrucio: My house is from another time period I want to bring it up to date

Mimi: Does that mean that we are getting rid of everything?
Ferrucio: Everything
Paul: I just received a fax from Florance
Mimi: Do you mind reading it to me out loud
Paul: Ocean beaches, riverfronts and lakesides produce a steady supply of materials redeemed from nature. Shells, stones, rocks and pieces of driftwood will probably be worn smooth by the effects of water and time. nature has a way of polishing the objects found on its shores
Mimi: See Ferrucio, what I do is I have a client send me a paragraph and I react to it, in this case my reaction would be that: "My favorite urban locations are less romantic perhaps but more easily accessible, for example I like to work with man made debris and the best place to find this is in city streets, parking lots, and construction sites. Here is where you will find industrial equipment, abandoned containers, gloves, bits of wire and chunks of cement. City streets are receptacles for all manner of rejects begging to be carted away."
Ferr: That sounds just like my house right now "Manmade Debris"
Mimi: Listen. if you want to save a couple of bucks we can use my "zipp in, zipp out and zap it process "
Ferr: Do you have any other techniques ?

Mimi: Well I am interested in hypnosis so I will tell you a series of phrases and you will react to them follow me ,

Tropic is the Topic
Pick a Paisley
The Banana Split
Rock is the Rage
Furniture on wheels
and
Decorating with dogs

Hypnosis into poses

Ferr: Yes I like that one

Ferrucio collapses to the floor, song starts
Dance starts: Mimi drags Ferrucio across the floor and looks at him
Paul runs around frantically wearing a wig and with books in his hands Same sequence three times She forms his hands and legs and balances books on them Ferrucio throws the books
Three times Ferrucio puts chair through Mimi
Ferrucio leaves Mimi's office.
Mimi turns off the lights and grabs her bags and starts heading over to The Library with Paul

She walks out of the club and brings the club kids that now look like Bums out of the club and leads them to Ferrucio's house, she serves them a couple of drinks, the techno music starts and they begin to transform the space.

A video of Mimi and Ferrucio's shoes walking around the city is projected, they walk in in sync and stop to look at things then continue to walk,

All of the Kids that were once in the club are now in Ferrucio's home they are drunk or on drugs and begin to creatively destroy his home.
Club kid #1 has speed freak attacks on stage and brushes her legs, Club kid #2 pours flour all over the books and layers them on top of each other over the coffee table, Club kid #3 files the book shelves with fruit, Club kid #4 creates a volcano sculpture with dry ice in the center of the room, Club Kid #5 pulls the Sofa apart, Club kid #5 uses shoes to simulate sponge wall painting, and Club kid #6 glues oyster shells on the outside of the Chinese bowls.

The house has been completely rennovated, the house looks destroyed , Paul runs around with a bunch of flowers and puts then all over the house before Ferrucio and Mimi return.

Mimi, Ferrucio and Paul enter the newly done House


Ferrucio is excited but confused:

Ferrucio:This is amazing. I can't even believe all the details.

Mimi: These new dishes are taken from an old boat that was shipwrecked in 1934, as you can see they are tainted by time and damaged by the depths of the sea, and your sofa well it is a vintage Victorian love chair that survived the American civil War. This piece over here is made by Bruce Nauman, most extreme! His work ironically is all about the interior of his house so it seemed appropriate to use him for this project, Off course you recognize these Lamp Plants from the 70's , John Lockner used them as models for his projects. Ohh and over here, this volcano was created by a small team of specialists from Burke Williams, it is meant to constantly steam you and keep you pores open and fresh, well and of course we have all this flour poured over the books and coffee table it is perfect for baking up new ideas.

Ferrucio: Mimi, I just don't know what to say it is so great.
Mimi: Nothing is best, and Paul has you invoice.
Paul; We offer a discount for Latin American ex-pats.
Ferrucio: Thank you so much.

Ferrucio opens it and he begins to quiver and his body shakes down to the floor.

The lights go out and a projection of Medusas head fills Ferrucio's home
An echoed voice with the following text starts. ( Spoken with a thick Scottish accent)

First pre recorded voice:The first question we must ask ourselves is: what is the value of an article? How is it determined? The value of a hundredweight of wheat is always the same but if one exchanges it for a certain amount of steel both commodities wheat and steel will be related to a third entity which is their common measure the calculation of the exchange rate is based on the labor required to produce a commodity If someone says "50 marks are a lower rate and 100 marks are a higher rate for a week's work," that's not much help. Wages can only be defined as high or low if they can be compared with a standard of which their size can be measured. But why is a certain sum paid for a certain amount of work?
2nd pre-recorded voice: that is determined by the law of supply and demand,
3rd pre-recorded voice:and what law determines supply and demand? It is a law of eternal validity incontrovertible for trade of all kinds? The prices of goods are not determined by wages, prices also contain the producers profit and the property owners annuity.

Los Super Elegantes latest Latin American Pop Hit begins to play and the cast begins to dance on stage.

The play ends.
Blow de la Barra Exhibition
Exhibition at Blow de la Barra
Slow Dance Club Frieze Art Fair
Make it with you, a slow dnce club created by Los Super Elegantes and a.v.a.f.